Manage Your Tasks, Events, and Email
Learning Objectives
After completing this unit, you'll be able to:
Review your activity history and see what's coming up next in the activity timeline.
Update tasks.
Work efficiently with calendar events.
Identify two places from which you can send email in Lightning Experience.
Activity Timeline
When you look at a record in Salesforce Classic, such as a contact or opportunity, you use the Open Activity and Activity History related lists to stay on top of activities.
In Lightning Experience, the details in those lists are surfaced in a more intelligent way in the activity timeline.


It's like an activity master control center for everything relating to the record you're on. Instead of going to different related lists to get an overview, it's all in one place, and directly in the record that you're focused on.
And it's exclusive to Lightning Experience, so enjoy!


Recap the Latest Activities
Your colleague is out of the office, and you're handling their accounts until they get back. When a client calls, how do you get up to speed on what's been happening?
Or maybe it's you who's been out of the office. Now you're back, and need to find out what's happened while you've been gone.
In either case, the activity timeline is your best friend.


Let's look at some of the ways you can review what's been going on with this client.
The first thing you notice is that the activity timeline is divided into Upcoming & Overdue (1) and past months (2), so you can see what's planned and what's already happened. You can expand and close a month by clicking the buttons (3).
If you need more details about an activity, click the expand button (4) next to the left of the activity and click the button again to close it when you're done. Or, click Expand All (5) to see details for all the activities.
See more of what's coming up by clicking View More (6).
Find the Activities That Matter Most
If you've been working with an account, opportunity, or other record for any length of time, you probably have a mix of activities in the activity timeline. How do you find the details you're looking for?


Use the filters in settings to narrow your search. By filtering on activity type and date range, you can find the key details in no time.
More Activity Timeline Features
There's so much more that you can do in the activity timeline.

As you review the list, you can update an activity. From the activity row, click the dropdown arrow and editing options appear.
Or, as you complete a task, click the checkbox to mark it complete.
You can find many ways to use the activity timeline as you explore Lightning Experience.
Tasks and Task Lists
There's no Tasks tab in Salesforce Classic beyond the My Tasks list on the Home page.

But sometimes you want to see what's on your whole to-do list, not just what's coming up for a particular contact or account. And wouldn't it be nice to jump straight to your task lists from any page instead of always needing to navigate to the Home page?
That's when the Lightning Experience tasks page comes in handy.


It's easy to get to, plus it's a one-stop shop for creating tasks and managing what's already on your plate. Click the Tasks tab, or click View All from the Today's Tasks list on the Lightning Experience Home page.
Keep Your To-Dos Up to Date
Another great aspect of the task list is that while you see the list on the left, expanded details appear to the right for whichever task you have selected.


Click a task on the left, and see that info on the right.
Lightning Experience includes several quick actions in the detail view—just click the dropdown—that make it efficient to update tasks. You can change status, change priority, edit, and delete.
Or, click Mark Complete to mark the task complete. You can also mark tasks complete from any list view. Of course, tasks are also shown in the activity timeline for the record you are looking at, and you can edit them there too.
Calendar
Salesforce Classic includes a calendar to help remind you about appointments.
But the calendar in Lightning Experience takes it further, to keep you working even more efficiently.
The first thing you notice is the Calendar tab, making it easy to get to your schedule.
Creating an event is quick and easy too. Click New Event, or click the day and time the event starts and drag the cursor to the time the event ends. The New Event dialog box appears, with the start and end times already filled out. Enter the event details, and click Save.
Want to focus on your upcoming schedule or declutter things on a small laptop screen? Click

 to hide the side panel in your calendar. Then click the button again when you want the side panel back.
View Other Calendars
What's especially helpful in Lightning Experience is how you can share your calendar and view calendars your colleagues have shared with you, all from your calendar. 
Plus, you can add multiple calendars at the same time with user lists. If you don't see user lists as a search category in the Add Calendars dialog box, ask your admin about setting up user list calendars.
Shared calendars make it easy to see when events overlap. For example, you can see when a coworker is busy to make sure she's available for a day-long event that you need to schedule.
When a coworker views your calendar, you can control the details they can see by changing the default access level. To show a specific coworker more or fewer details about your schedule, click

next to your My Events calendar, then select Share Calendar. Select a colleague's name from the Share With dropdown and then select the level of access from the Access dropdown. Click Share when you're done making changes.
Keep in mind that your admin can limit the details that everyone can share with others. Also, admins with the View All Data permission can view user calendars even if they're not shared.
If you want to focus on just one calendar, click the colored squares for the other calendars to stop seeing them. Click the squares again to make a calendar reappear.
See Your Salesforce Data as Dates on a Calendar
A handy way to use a calendar is to see your Salesforce data as events on a calendar.

This screenshot shows opportunity close dates on your calendar.
It's easy to do—just create a calendar for the data you're interested in.
Choose the object you want to see on your calendar, and select date fields that represent the data you want to track, like pending close dates.
Now you've got a bird's-eye view of what's coming up. Examining the screenshot, it looks like you'll have a busy week of closing deals. Now you can plan accordingly and reschedule some meetings, or just block out some time to "always be closing."
Calendars in Action
If pictures are worth a thousand words, then videos are even better at bringing concepts to life. So here's a quick one about using calendars in Lightning Experience.
Email
Even though there are many ways to communicate today, your customers still rely heavily on email, and so do you.
Send Email from Anywhere
In Salesforce Classic, you generally create and send emails from the HTML Email Status related list.

That's also where you can see what's already been sent.
In Lightning Experience, you have several options for creating and sending emails. The Activity Composer on a record and the Global Actions menu are the options you'll probably use most.
As you can see in this screenshot of the email composer, just like Salesforce Classic, when you send an email from a record, it fills in the To address for you. If a Person Account has an email address, it's also filled in automatically—but only in Lightning Experience.
Imagine that you've just remembered that you need to send a thank-you note to a contact. Click the Email quick action to open the email composer—you don't need to be on the correct record first—and fill in the details. Remember to update the To field so it's going to the correct person! You'll see the email on the recipient's activity timeline.
Email Features in Lightning Experience
Within the email composer, there are several features that make your email even more powerful.
One of the first things you'll notice is that you can relate the email to another record, like the opportunity you're working on.
Then you'll see the email in context, in the activity timeline, when you look at the opportunity.
You can also do more in the email composer: add attachments, insert merge fields, insert or create a template, preview your email before you send it, erase what's in the email and start over, and expand the email composer for more space.
Send an Email to a Group
You've used group emails—called Mass Email in Salesforce Classic—to reach many customers at once.

You can do the same in Lightning Experience for contacts and leads, with the List Email feature. In Lightning Experience, you start from a saved list view, where your list has already been filtered to focus on a group of recipients.

In the list email, you can include templates and merge fields, as well as attachments (2), to be even more efficient. And be sure to check the Review tab to confirm that the recipients and any merge fields appear the way you want them to (1) before clicking Send.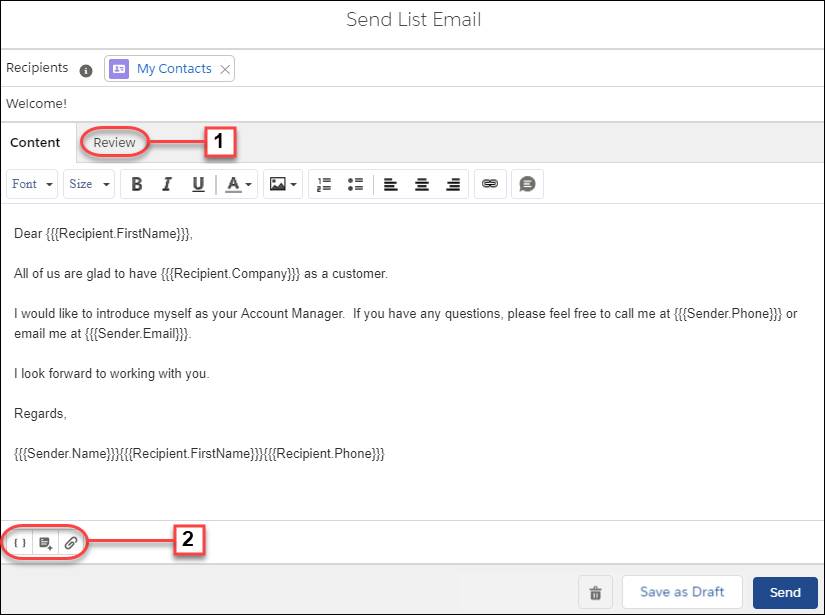 Sending emails to a group can do a lot for increasing your outreach efforts.
Email Templates
Lightning Experience includes two new types of email templates that you can create. With Lightning templates, including templates you can create in Email Template Builder, you enjoy rich text support and easy file preview and sharing. Just send the email attachment as a link. And it's easy to keep these templates up-to-date.
However, if you need Letterhead, Custom HTML, or Visualforce templates, you may want to continue using your Classic templates until these features are available in Lightning templates.
You can easily access your existing Classic Text, Custom HTML, and Letterhead email templates in Lightning Experience. You just edit them in Salesforce Classic. When selecting a template, choose All Classic Templates from the dropdown list.
List Email and Email Templates in Action
Let's wrap up by seeing List Email and email templates in action. This video shows how to send personalized emails to a group.