Get to Know Tableau
Learning Objectives
After completing this unit, you'll be able to:
Explain why so many organizations face problems with data.
Explain how Tableau helps customers see and understand their data.
Tableau Products Put People First
Tableau products are designed to help people see and understand data—the most critical word being people. We believe that people are a company's greatest asset, and the data that companies spend millions of dollars capturing, curating, cleaning, and storing can be used to make people even more valuable. The goal is getting data into the hands of the people who know the business; that's when the magic happens. Historically, data and analysis has been limited to those with specific technical skills and knowledge. We want to give everyone the ability to think, act, and deliver—to use data to make better decisions.
Tableau is the analytics platform people love to use. We offer the intuitive user experience, breadth and depth of powerful analysis, and governance and security you expect from an enterprise-grade platform. This enables users across all skill levels to benefit from Tableau. Now that Tableau is part of Salesforce, we're able to help even more people see and understand their data. 
The Problem with Data
In our age of digital transformation, everyone agrees that putting data at the center of conversations can drive change—but it's not always easy. Working with data always has its challenges.
Volume of data: Data is everywhere, and so is the demand to access and analyze it. But now, the volume of data is so massive and decentralized that organizations must innovate to effectively gather, curate, understand, and make use of it.
Diversity of data: Organizations are collecting, processing, and analyzing more diverse data than ever before. Data is coming from software applications, cloud data sources, on-premises data sources, and internal products. With data formats multiplying, organizations need a wide array of connectors to make use of them.
State of data: More and more people are collaborating with data, breaking down data silos across organizations, and discovering new insights that drive impact. At the same time, we are seeing more data that, in its state of collection, is not ready for or meant for analysis. In many cases, there is a significant gap between the optimal states of the data for efficient capture and effective analysis, whether it's the structure, format, or lack of business context. Data often needs cleaning and curation—for example, healthcare data that requires business rules or claim types—before analysis.
Tableau Is Business Intelligence for Your Entire Organization
Note: Tableau Online is now known as Tableau Cloud.
When it comes to elevating people with the power of data, only Tableau combines a laser focus on how people see and understand data with the kind of robust, scalable platform you need to run even the world's largest organizations. Tableau provides enterprise-wide analytics for all your data with an integrated platform, flexibility to connect to all kinds of data on-premises or in the cloud, and a strong security and governance model. As part of Salesforce, Tableau natively connects to your CRM data to speed the creation of powerful visualizations. 
Let's see how the Tableau platform helps you turn your data into insights that drive action—while making your IT team happy, too.
Powerful Analytics
Interactive, visual analysis lets you untangle thorny business questions and quickly get to the insights that propel your business forward. Powered by our patented VizQL technology, natural language, and AI-driven statistical capabilities, Tableau gives you powerful analytics to ask deeper questions and deliver more meaningful answers. Advanced data management functionality accelerates your team's data exploration by helping ensure your data is always clean, discoverable, and dependable.  
Fast Adoption at Scale
When you make working with data easy, fun, and impactful, amazing things happen. Whether you're building workbooks and dashboards, cleaning and prepping data, asking your own questions of others' published analyses, or responsible for making data a more useful part of everyone's workday, Tableau makes it easy to get value from data. Incorporated into the Tableau Platform are analytical capabilities built with artificial intelligence, machine learning, statistics, natural language, and smart data preparation. These features help get a broad range of people engaged with data in new ways. 
Fits Your Environment
Your specific data needs are unique. We built Tableau with the flexibility to work within your enterprise architecture and data ecosystem both today and as your technology investments evolve. Connect to your data wherever it's stored. Conduct live queries or use extracts. Deploy on-prem or in the cloud. Choose Windows, Linux, or macOS. Work with your data your way. Say goodbye to siloed data that is inaccessible to those who need it to drive your business. 
Mission-Critical Platform
Data is critical to your business, so your analytics platform needs to be secure, governed, scalable, and reliable. From compliance and security to management and monitoring, Tableau provides a robust suite of built-in capabilities to support the needs of your business. Tableau also offers the ability to integrate with systems you've already put into place.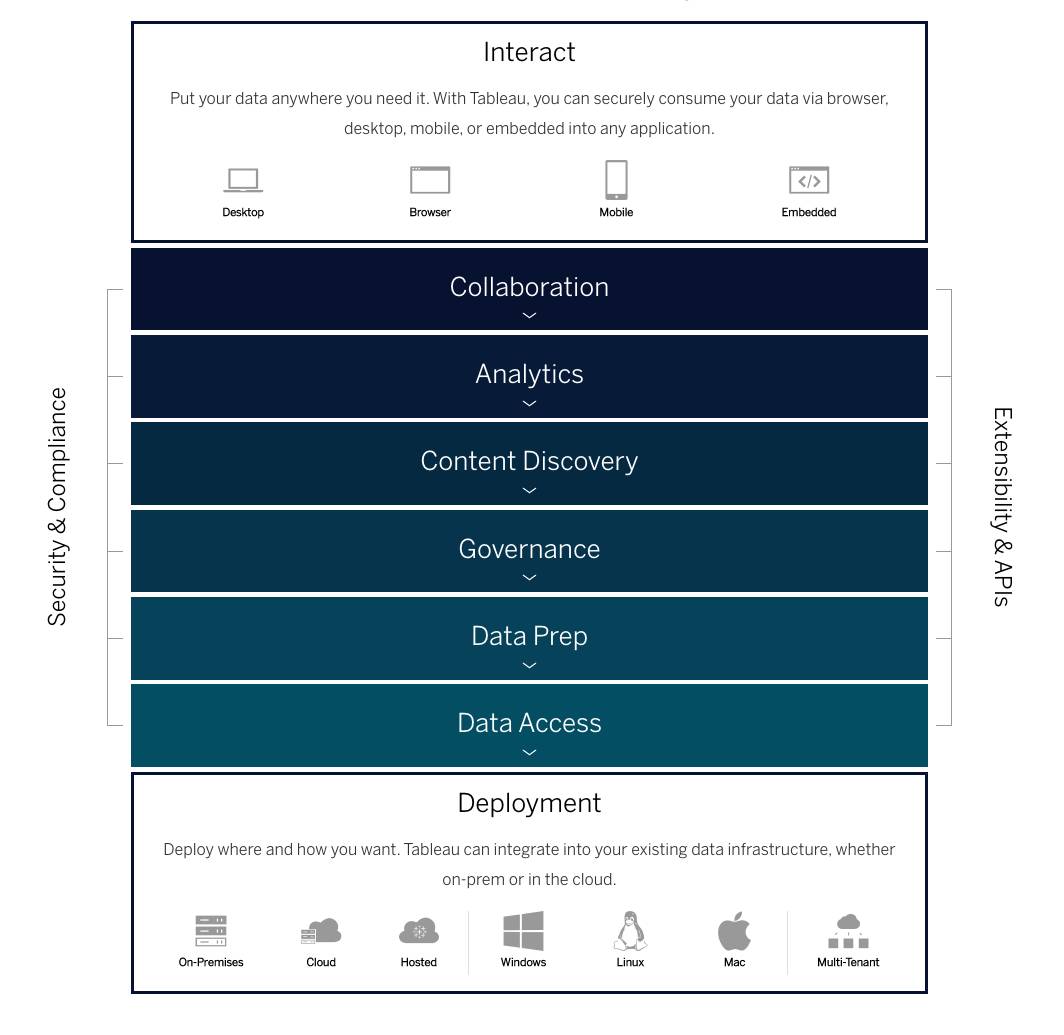 Resources