Meet the Office of Ethical and Humane Use of Technology
Learning Objectives
After completing this unit, you'll be able to:
Explain the charter of the Office of Ethical and Humane Use of Technology at Salesforce.
State the vision for Ethics by Design at Salesforce.
Identify different ways Salesforce works to infuse Ethics by Design into the product development process and features.
The ethical and humane use of technology in the Fourth Industrial Revolution is the way forward—not just for our industry but for humanity. We have to make sure that technology strengthens our societies instead of weakening them. Technology needs to improve the human condition, not undermine it.
—Marc Benioff, Chairman and Co-CEO, Salesforce
At Salesforce, we recognize the transformative power of the technologies we create and aspire for them to be a force for good around the world. That's why we strive to develop and use our products in an ethical manner that upholds the basic human rights of every individual. 
As a result of the decision to invest in ethical and humane use as a key business strategy, Salesforce formed the Office of Ethical and Humane Use of Technology. The office works across product, law, policy, and ethics. 
The focus of the Office of Ethical and Humane Use is threefold.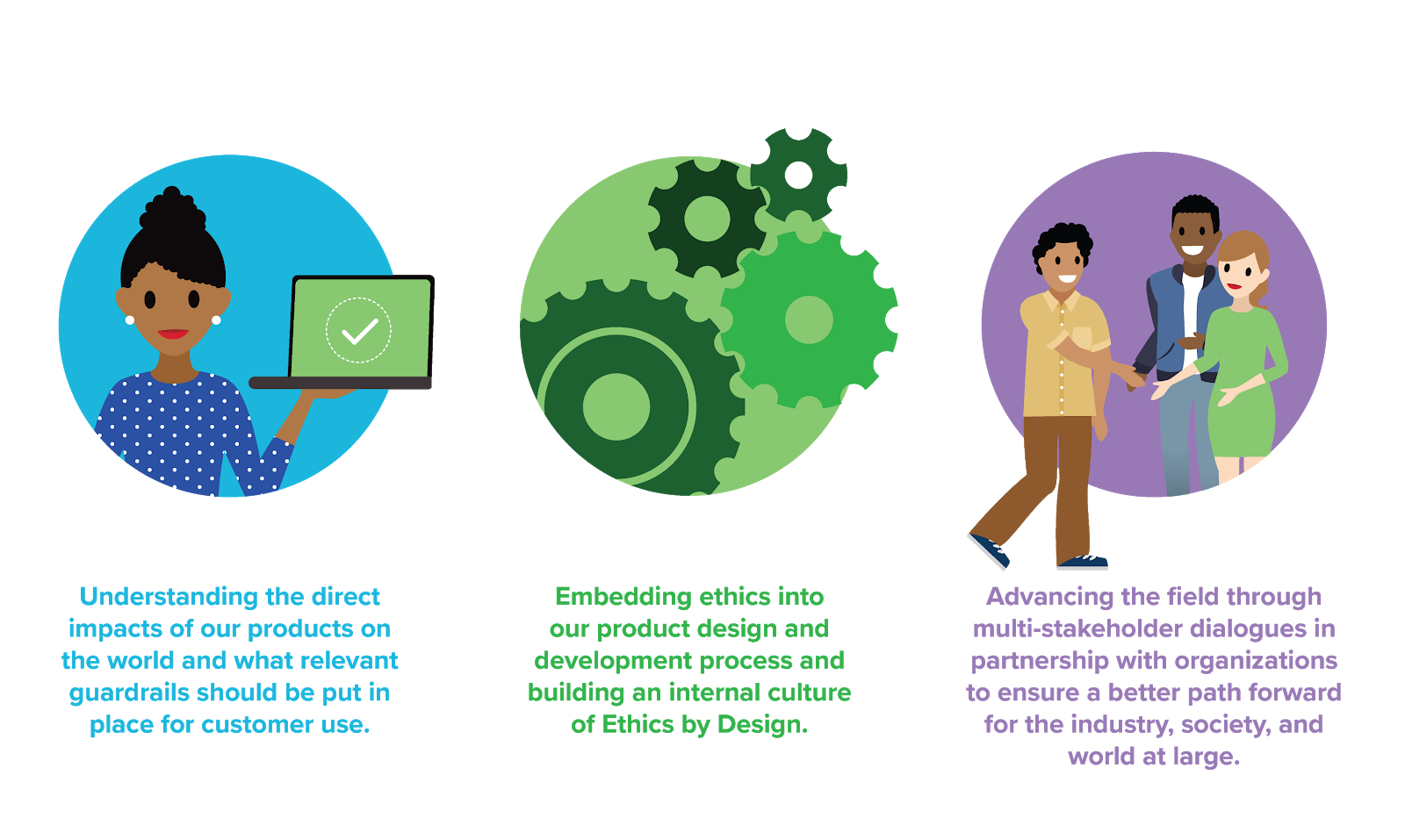 Understanding the direct impacts of our products on the world and what relevant guardrails should be put in place for customer use.
Embedding ethics into our product design and development process and building an internal culture of Ethics by Design.
Advancing the field through multi-stakeholder dialogues in partnership with organizations to ensure a better path forward for the industry, society, and world at large.
Ultimately, these focus points help Salesforce maintain systematic processes for guiding the ethical and humane use of technology. Most importantly, this framework helps us listen to all stakeholders and ensures we build and maintain trusted relationships with our customers, partners, and community members.
Explore Our Ethical and Humane Use Guiding Principles
Salesforce's core values—Trust, Customer Success, Innovation, Equality, and Sustainability—set our company's direction and purpose. They guide everything we do at Salesforce. 
When developing our Ethical and Humane Use Guiding Principles, we started by learning from what has already been created. We combed through many widely agreed upon international covenants to start our principle development process, including the Universal Declaration of Human Rights and the UN Guiding Principles on Business and Human Rights. 
These documents helped us understand the importance of empowering every stakeholder with certain rights, from best-in-class data protection to inclusive access to technology. Then, we turned to our employees through an all-company survey. They ultimately decided our final Guiding Principles and prioritized them in stack rank order.
Let's take a closer look at what each of these principles means, and how we use them to navigate the ethical design and use of Salesforce technology in the world.
Human Rights: We work to ensure the direct use of our technologies upholds equal and inalienable protections.
Privacy: We push the frontier of privacy best practice in our product design to enable customers to protect individuals' data.
Safety: We aim to protect humans from direct harm from the use of our technology.
Honesty: We oppose the use of our technology to knowingly spread disinformation or conspiracy theories.
Inclusion: We create opportunity through equal access to technology.
These principles guide us every day in the ethical way we approach designing, developing, and delivering our products. At Salesforce, we call this Ethics by Design.
Ethics by Design at Salesforce
Ultimately, technology holds the potential to make humans better, and it's our responsibility to ensure that our technology meets the high standard set forth by our Guiding Principles. That is why we are focused on Ethics by Design—the intentional embedding of ethical and humane use principles into the process of designing, developing, and delivering our software and services.
We strive to empower our employees, partners, and Trailblazers to consider technology's potential benefits and harms, so we can build tools and features together that help us navigate unprecedented uncertainty, increase trust, and positively impact the world. In short, we try to build technology in a way that helps our customers use Salesforce ethically, and adds guidance to prevent them from using it unethically.
Ethical Differentiators
Many of the Salesforce technology solutions already have features that differentiate them through Ethics by Design. Let's review some examples.
Building Trusted AI
The benefits of AI should be accessible to everyone. It's not enough to deliver only the technological capabilities of AI, we also have a responsibility to ensure that it's safe and inclusive for all.
In our Einstein platform, we give end users explanations of the "why" behind each prediction with predictive factors. Predictive factors help users understand what data influences a recommendation. We also have Sensitive Fields (formerly called Protected Fields), developed with the understanding that certain model factors such as race, gender, or age, can result in recommendations or predictions that are biased against certain groups. Finally, Model Metrics helps gauge the accuracy and performance of AI models, and Model Cards communicate how our models work, including inputs, outputs, their optimal conditions and ethical considerations in their use.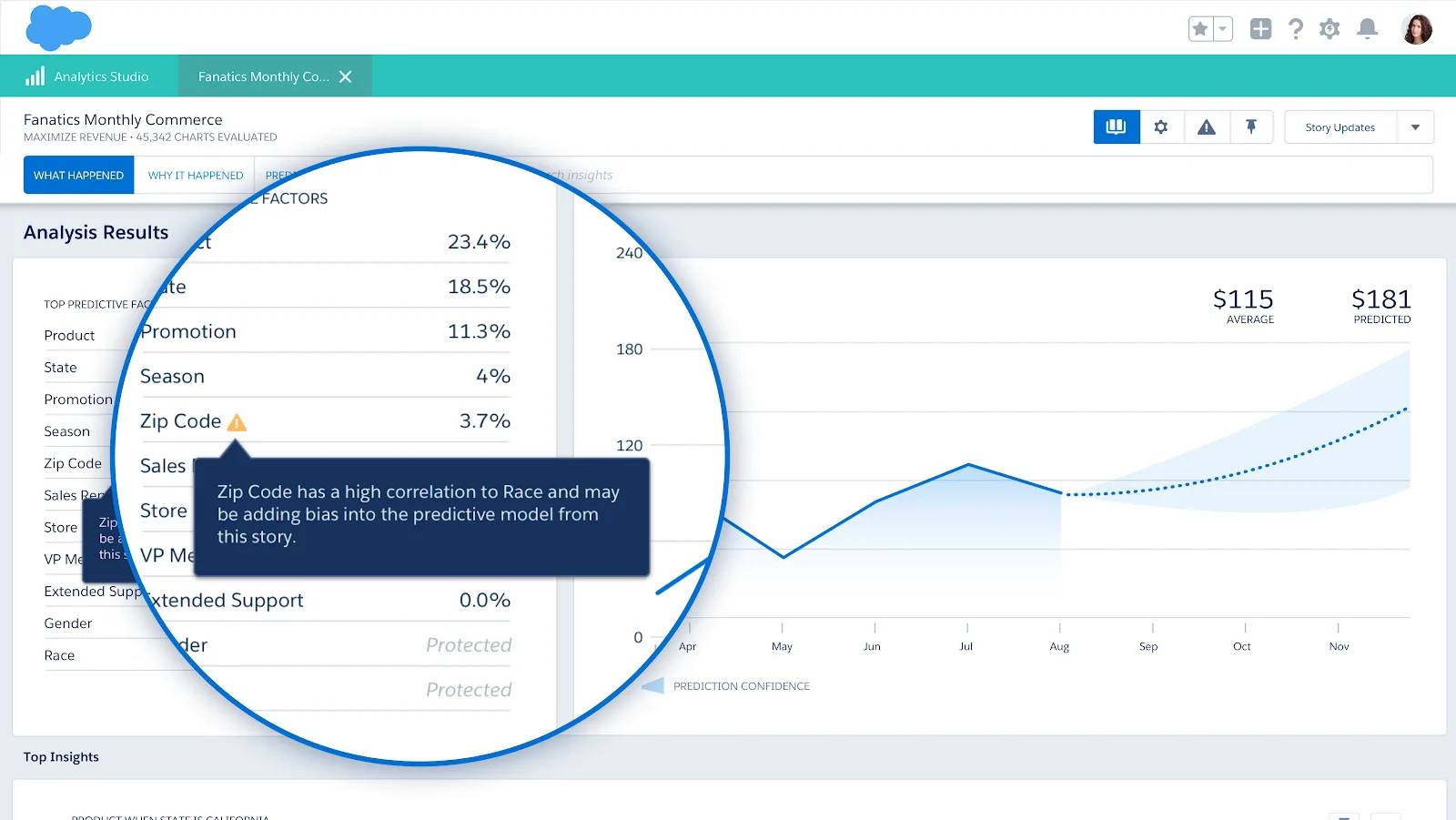 For our customers, partners, and community, we have created the Responsible Creation of AI module to empower anyone to skill up on how to build responsible and fair AI. We aim to empower developers, designers, researchers, writers, and product managers—everyone involved in the creation of AI systems—to learn how to use and build AI in a responsible and trusted way and understand the impact it can have on end users, business, and society.
Language Matters: Equality and Inclusion in Salesforce Products
Language has the power to help bring people together, uplift, and empower. When used unethically, it can sow division, harm, or reinforce stereotypes. 
In light of society's calls for greater racial equality and justice, more companies are making efforts to assess the language they use and ensure it is furthering—not hindering—Equality, one of Salesforce's core values.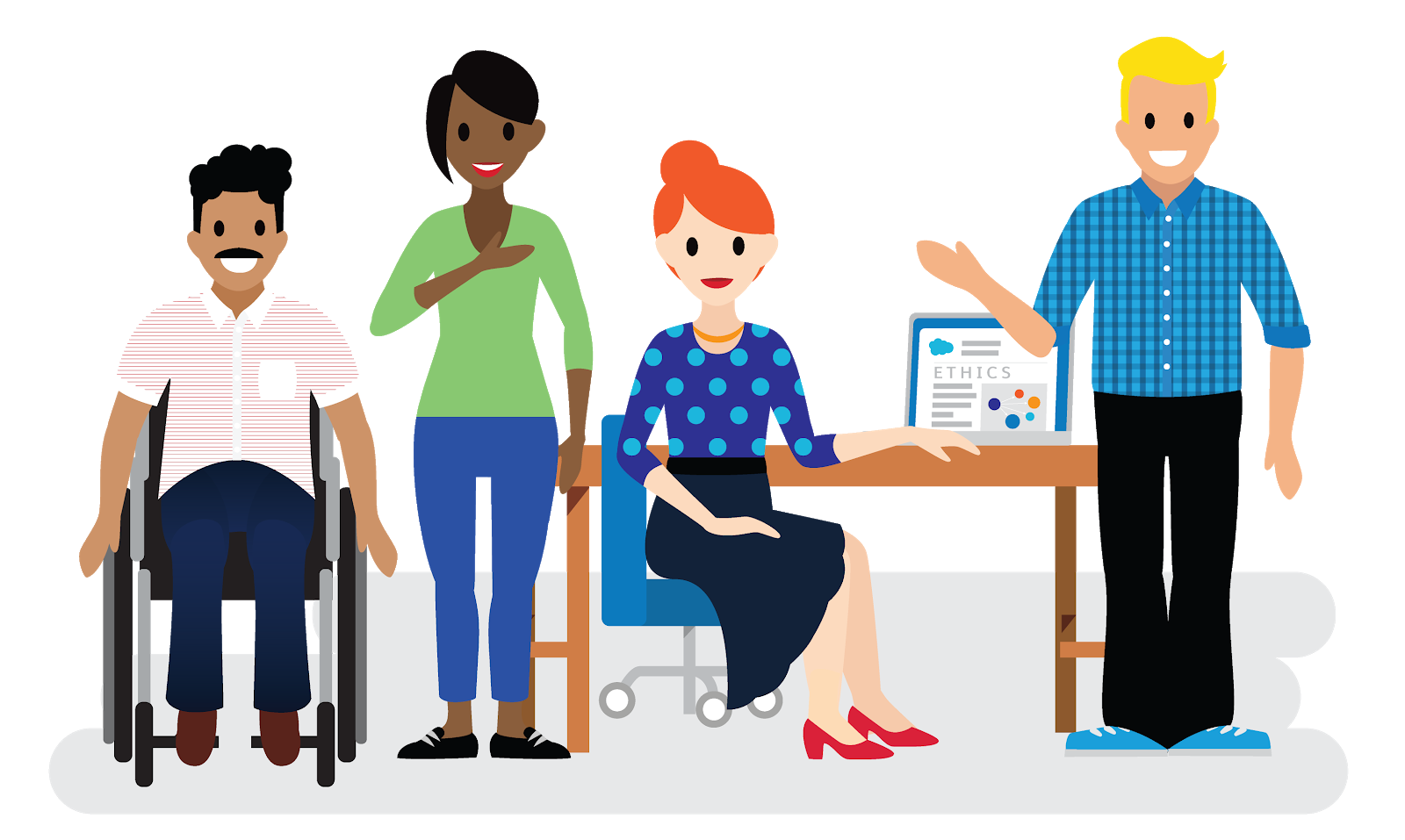 The language that a company uses is impactful—it influences the hundreds, thousands, or millions of users who interact with its content and products. To ensure an inclusive approach to our products, we empower our engineering and product teams to consider the impact of the content and code they create. To start, we replaced noninclusive language with more appropriate terms such as "block- and allow-lists."
We also knew that we had to think more broadly and bring a wider lens to this work. To do this, we are building a sustainable, repeatable, and scalable process so we can address non-inclusive language retroactively, but also on a go-forward basis. Read more about our Inclusive Product Language initiative.
Responsible Technology Development During Times of Crisis
The COVID-19 pandemic has brought to light a number of other privacy and ethical use considerations. Operating in a work-from-anywhere world requires tools that have access to more sensitive personal data than ever before.
Just as our frontline responders, medical professionals, and essential workers are helping to guide us toward recovery, we recognize that technology can also play an important role in slowing the spread of disease and helping restore our communities. So, we've developed principles to help guide our internal conversations as we've built our suite of Work.com solutions. Our intentional approach has ensured ethical use and privacy are top of mind as our teams respond to the dynamic challenges and needs of the COVID-19 response.
We share these principles in the spirit of transparency and accountability—and in the hopes our partners, customers, and community can reference them as they build their own solutions:
Protect Human Rights & Equality
Honor Transparency
Minimize Data Collection
Ensure Security of Personal Data We've focused on increasing access to our technology by incorporating multi-language capabilities, email, and SMS features into our Work.com products. In the spirit of transparency, we've added more language explaining exactly what data we're collecting and why. Finally, we've implemented additional measures to keep personal data secure. We only collect data points that are absolutely necessary, and we strongly recommend the partitioning of personal employee health information from other data.
It's Also in Our Policies
Building these products with ethics in mind, we've also embedded ethical use related to specific products into our Acceptable Use Policy for customers. For example, our policy states it must be made clear to customers that a bot is not human, and that Einstein cannot be used for automated legal decision-making. And we do not allow biometric identification, including facial recognition, using our Einstein Vision products. 
Strive Toward the Ethical Use of Technology Now and Forever
From creating and implementing these principles, we've learned to listen to our communities, make sure our guidance is accessible, create mechanisms for continual feedback, plan for life after the crisis, and evolve with technology and society. Our goal is to create lasting principles and frameworks that reflect our commitment to ethical and humane use, while also systematizing them to ensure those standards are upheld for years to come. 
Next, we discuss how you can incorporate ethics into product processes at your own company.
Resources