Optimize Sales Performance with Einstein Conversation Insights
Learning Objectives
After completing this unit, you'll be able to:
Explain the features of Einstein Conversation Insights.
Describe the three conversation trend areas.
Explain call recording player.
Simplify Call Reviews
Einstein Conversation Insights lets you simplify the process of reviewing calls by focusing attention on conversation trends across three areas. 
Products: Allows you to understand how sellers are talking about your products or what questions customers are asking about your product.
Competitors: Allows you to understand how competitors come up in conversations, which competitors are mentioned the most, what objections customers may have as it relates to competitors, and how sellers are handling those objections.
Custom mentions: Allows you to understand how sellers are blocking and tackling situational topics (that is, market fluctuations, promotional-campaign–related keywords, and so on), objections (for example, timing, authority), identifying customer needs and how they are being handled, pricing and payments, or anything else.
Einstein Conversation Insights aggregates the mentions from above into easy, digestible insights. With your dashboards, you can understand how keywords are trending over time, how they are stack ranked, and how coachable moments are showing up for the individual or the team.
Drill Down on Relevant Calls
Using the call recording player, you can drill down on conversations and get visibility into call specifics such as keyword mentions, speaker tracks, participants, and duration. You can also view the talk/listen ratio of each call so you can understand how often your sales reps are talking versus listening to the customer. 
These call specifics allow you to understand the rhythm of a sales call so you can identify sellers who monopolize the conversation, don't ask enough questions, or don't talk enough. 
You no longer need to listen to the entire conversation to get to those important data points. The time stamps and insight buttons allow you to skip ahead to when keywords are mentioned.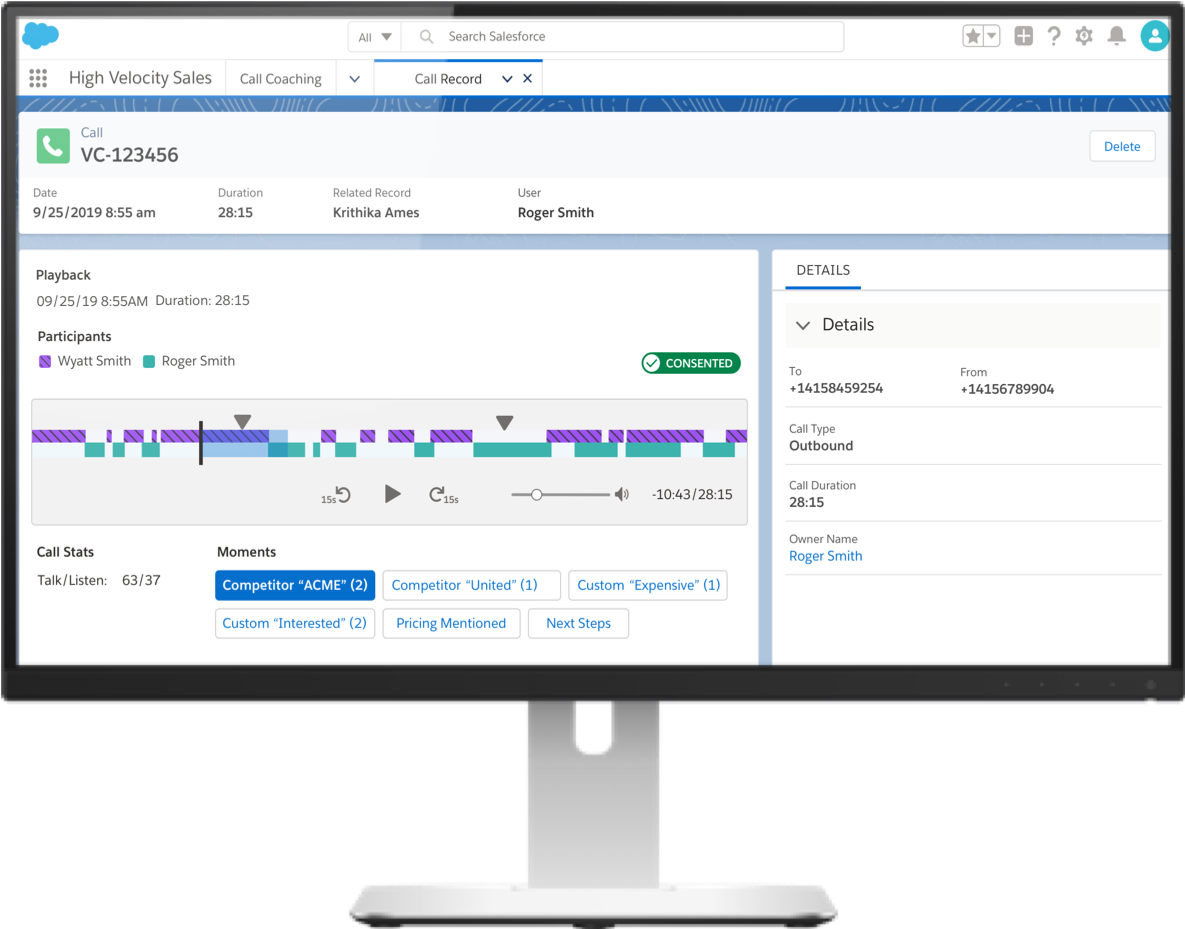 Stay Up to Date on Important Call Metrics
Einstein Conversation Insights allows you to stay up to date through ongoing insights, highlights, and reports. The daily insights email gives you insights delivered straight to your inbox. Without logging into Salesforce, you can understand calls made by your reps, know the top keywords, know who the calls were between, and the duration of each call. If you need to learn more about a certain call, click the Listen button to go directly to the call recording so you can start drilling down on important moments and begin coaching.
Einstein Conversation Insights in Action
Alan Johnson manages a growing sales team at Get Cloudy Consulting, a high-tech consulting firm specializing in CRM implementations. Alan prides himself on empowering his team, from equipping them with the right tools and resources, to coaching them to be more productive. 
Alan uses Einstein Conversation Insights to coach his team to maximum performance, unlock hidden insights, and enable best practices at scale. Here are three ways Alan has improved his coaching practices with Einstein Conversation Insights.
Preparing for call reviews quickly: Before Einstein Conversation Insights, Alan did not have a central system that compiled his sales reps' call recordings. When he was preparing for a call review, he had to click into each recording to find calls associated with a given sales rep. Once he found the call, he then had to listen to the entire call or consistently fast-forward and rewind as he hunted for critical moments. With Einstein Conversation Insights, Alan prepares for call reviews and coaching sessions in half the time because he can easily find the sales calls associated with each rep and listen to only the conversation snippets around the keyword mentions, not the entire call.
Helping sales reps with their sales cycles: Before Einstein Conversation Insights, Alan might only find out the nuances of a rep's deal toward the end of the sales cycle, when the deal was about to close. Sometimes those nuances are positive; and sometimes, some adjustments need to be made. For example, if a customer is happy with a rep's product, that's cause for celebration! But, sometimes, to close a deal, a rep may over-promise a certain service or offer a larger discount than is approved. In order to guarantee customer satisfaction, Get Cloud Consulting honored the sales rep's promise, which could result in lost revenue. With Einstein Conversation Insights, Alan can catch that early in the sales cycle. By customizing his keywords to reflect the most common rep scenarios, Alan is able to praise or troubleshoot as needed, quickly.
Customizing sales trainings and sales planning: Before Einstein Conversation Insights, Alan's sales trainings were high-level, and sales planning was based on general market ideas. With Einstein Conversation Insights, Alan has been able to pinpoint product features that are complex to explain, objections that prospects regularly bring up, and most frequent pricing questions. Alan has tailored his sales training around these moments and updated his reps' call scripts accordingly. All of those insights trickle down into how he manages new reps' onboarding processes. And he can plan out where to focus his sales team, based on the customers' needs.
With time saved on admin work, Alan can make sure that he spends his time on feedback that is specific, actionable, and designed to help reps grow. And by identifying best practices, he can scale his feedback to help every rep on the team be a top performer. Einstein Conversation Insights has given Alan the speed, agility, and scale to improve his sales coaching practices.
Resources