Get to Know Education Cloud
Learning Objectives 
After completing this unit, you'll be able to:
Define CRM, Salesforce, Education Cloud, and Salesforce for Education.
Explain how Salesforce for Education drives learner and institution success.
At Salesforce, we equip educational institutions with technology to manage the entire student lifecycle with Education Cloud. Education Cloud provides purpose-built education products and solutions, and the latest innovation from the trusted Salesforce Platform. You can connect insights across recruitment and admissions, student services, advancement, and marketing on an integrated platform for a unified view of every learner. Education Cloud helps you drive student and institution success from anywhere.
The Fundamentals
Before we dig into the details of Education Cloud, let's define some basic Salesforce terms.
CRM stands for customer relationship management—or, in education, constituent relationship management. It's a system that keeps your constituent information in one place, so your team can see the full history of interactions with each person. Keeping all of your constituent information in one place helps cultivate more engaged learners, parents, alumni, faculty, and staff.
Salesforce is the first company that took CRM to the cloud, enabling other companies to access all of their customer information online, from any device, anywhere in the world. From the beginning, Salesforce committed to giving back through the 1-1-1 philanthropy model, giving 1% of our time, product, and financial resources to organizations doing good. From that initial model, Salesforce.org was born.
Education Cloud is the Salesforce suite of purpose-built products for educational institutions. Education Cloud connects insights across recruitment and admissions, student experience, advancement, and marketing on an integrated platform for a unified view of every constituent.
Salesforce for Education is broader than Education Cloud, covering any product or combination of products on the Salesforce platform, not just those specifically designed for educational institutions.
Trailhead is the Salesforce online learning tool. It's where you are right now. Trails are guided learning paths that chart your course through Salesforce skills. Modules introduce you to specific topics broken up into bite-sized units. Trailhead is a free and fun way to learn Salesforce, and we invite you to dive right in!
Education Cloud
Today's lifelong learners expect a digital-first experience, personalized communications and a sense of belonging. A truly connected experience drives student success by engaging with them in ways that meet their modern expectations for fast, seamless, and personalized digital interactions. 
Education Cloud lets your institution capture a complete view of learners at all stages of their relationships with you. You can come together across departments to create personalized learner experiences at scale, using one integrated CRM platform for education. This empowers you to go from siloed data to actionable insights, transforming learner engagements into lifelong relationships.
All of that starts with data. The better you understand your students, the better you can support them. That's why institutions of all sizes are turning to a CRM platform like Salesforce to create connected experiences at scale across their entire organization–from recruitment and admissions to the student experience and into advancement and alumni engagement.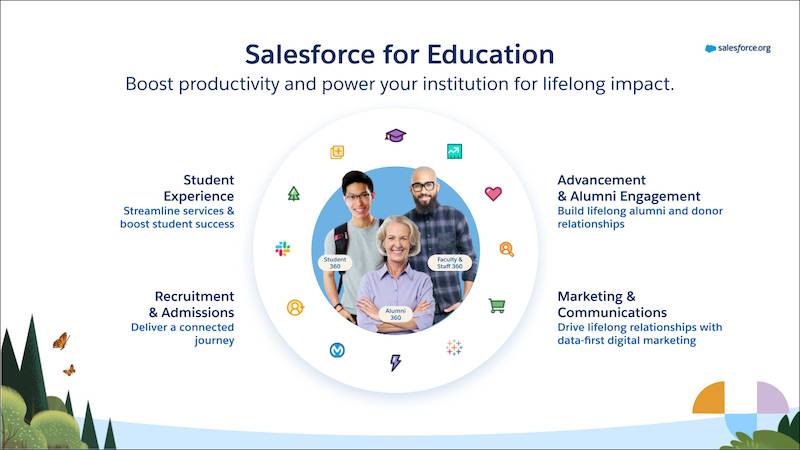 Recruitment & Admissions
Education Cloud streamlines recruitment and admissions processes for everyone involved, and it all starts before you ever meet your students in person. With Education Cloud's marketing and communications tools, you can build brand awareness for your institution, segment prospects, and build a full pipeline of well qualified applicants. Education Cloud then engages applicants with dynamic application tools, and streamlines the review process for admissions professionals with document management and workflow automation.
As the foundation of Education Cloud, the Education Cloud data model is flexible, extendible, and intentionally designed for education institutions. It uses Person Accounts, Households, and Constituent Roles to provide a 360-degree view of prospective and current students. This allows you to keep track of their interests, extracurricular activities, personal relationships, and more, all in one place. From submission to decision, you can follow a prospective student from an initial request for information through their actual application to your institution. And a wide variety of reports help you dive into your data to get a better understanding of your applicant pool and student population.
Student Success
With a holistic view of every student through the education data model, your student interactions become much more meaningful. If you can demonstrate a familiarity and understanding of a student's background and daily life, that student will naturally feel connected to your institution. Education Cloud keeps all the information you need for that connection in a centralized place where you can efficiently access it anytime and anywhere. No more worries about memorizing or manually tracking personal details about hundreds of individuals. 
This capability is helpful for faculty, staff, or any student-facing team member who must wade through lots of student data. Salesforce features a unified student record with a comprehensive view of student appointments, coursework, relationships, and affiliations. 
And it goes both ways! Education Cloud lets you build external-facing portals where students can search knowledge bases, submit applications, book appointments, receive announcements, and more. Student portals can also connect students directly with faculty and staff, including financial aid advisors, career counselors, wellness coordinators, and others. Portals are easy to deploy by customizing our out-of-the-box solution.  
Advancement & Alumni Engagement
Beyond the enrolled student experience, personalized engagement goes a long way when it comes to alumni outreach. With Education Cloud, you can customize an advancement program that fits your unique needs and processes. Just like you use Person Accounts, Households, and Constituent Roles to maintain a holistic view of every student during their time with your institution, you can continue to use those features to keep track of the people and places your alums connect with after graduation.    
Marketing & Communications
Harnessing the established power of Marketing Cloud, Education Cloud helps you create relevant, personalized messages for every audience at your institution. You've got all the tools you need in order to make strategic communication a core competency: data to inform messaging, workspaces and collaboration workflows to streamline planning and design, and email tools and templates to simplify delivery. From prospective and current students to faculty and staff to alumni and donors, you can reach your constituents how and when they prefer. 
Now that you have an idea of how Education Cloud propels learner and institutional success, check out the next unit in this module to find out more about some specific elements that support students throughout their entire lifecycle.
Resources