Create a Custom Object
Learning Objectives
After completing this unit, you'll be able to:
Explain how to optimize your org with standard and custom objects.
Create a custom object.
Your Data, Your Rules
Every business is unique. You keep and maintain valuable data about accounts and customers to help you close deals and nurture business relationships.
Recognizing that what's most important to you and your business might not be the same for another business, Salesforce offers a way to customize your data through standard and custom objects.
Objects are the way you store your records in Salesforce. They are basically a container for spreadsheet data, account details, customer contacts, location and regional info, tracking status, and more, but are easier on the eyes and more customizable than a database. The idea is that you track everything related to your business in one place.
Let's look at how that works.
There are some record types that are so common to most businesses that Salesforce includes them automatically. These standard objects are lead, opportunity, account, and contact. They're a good starting point for organizing and categorizing your data.
Standard Object—Lead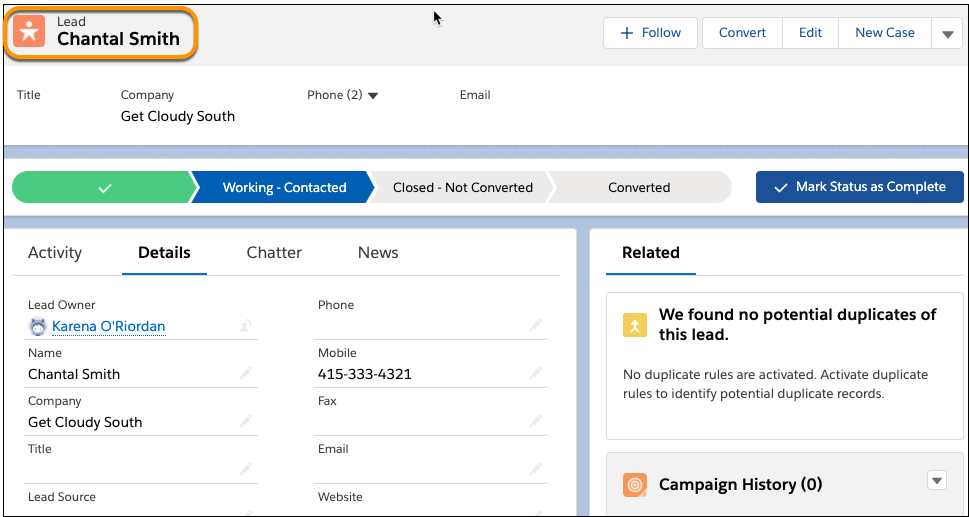 And then there's info that's specific to you and your type of business. You want to track that as well, so you create custom objects.  
Custom objects can be anything—you define the object and you define the type info it contains. You're a real estate agent and need to track each home you're selling? Create a custom object called Property that shows which homes are for sale, pending, in the offer stage, sold, and so on. You're a recruiter? Create an object called Job Postings to track open positions. Department of Energy? A new object for your home inspections called Energy Audit.
Sample Custom Object—Energy Audit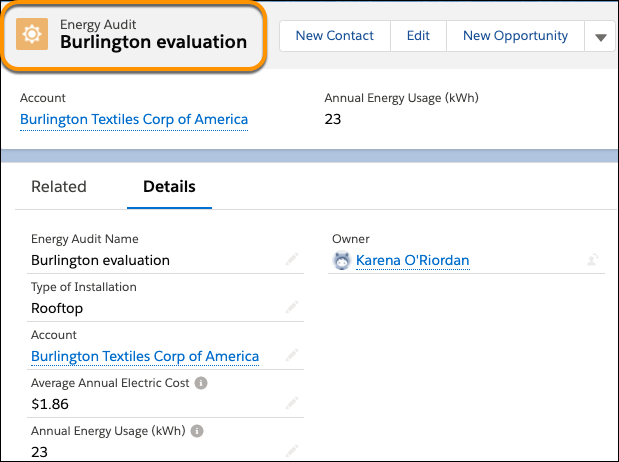 Try It Yourself
In your Salesforce org, click  and select Setup to open Setup.
Click the Object Manager tab. If you don't see it, enter Object Manager in the Quick Find box.
On the Object Manager  page, click Create | Custom Object.

For Label, enter whatever you want to call your custom object. Notice that the Object Name and Record Name fields auto-fill.
For Plural Label, enter the plural form of your custom object name.
Check the box for Launch New Custom Tab Wizard after saving this custom object.
Leave the rest of the values as default and click Save.
On the New Custom Object Tab page, click the Tab Style field and select a style you like. The style sets the icon to display in the UI for the object.
Click Next, Next, and Save.
Summary
There you have it. Once you've created your custom object, you can format it with standard or custom fields within the record to further track data and activities that are meaningful to your business.
Resources