Get Started with Chatter
Learning Objectives
After completing this unit, you'll be able to:
Switch between Salesforce Classic and Lightning Experience.
Find and use in-app notifications.
Update your Chatter profile.
Home, Switcher, and Bell
Let's talk.
Talking in a business is like water in a river. Without the water, no river. Chatter is the river of your Salesforce organization (org). So, when you have something to say, #TakeItToChatter—the best platform for collaboration anywhere. Discuss business with colleagues, experts, and customers; preserve those discussions; and revisit them whenever you like. Stay focused on the things you want to get done.
Let's look at the latest, greatest Chatter version: Lightning Experience.
If you haven't already, log in to Trailhead, then launch your Trailhead Playground by clicking Launch at the bottom of this page. Make sure that you switch to Lightning Experience to complete this module. If you haven't yet enabled Lightning Experience, do that now.
Anywhere you see a Chatter tab, that's where you find Chatter. Sometimes you see a Feed tab instead: that's Chatter, too. You can find Chatter almost everywhere in your Salesforce org.
Meet the Chatter Page
Chatter has its own page, and here's a picture of it.
Click that Chatter tab, and look at the left side of the page. Right from the start, you can access different views of your Chatter feeds.
What I Follow combines all the feeds from all the people and things that you follow (you can follow up to 500 things).
To Me combines all the posts where you're mentioned—as long as you can access those feeds.
Bookmarked combines all the posts that you've bookmarked (more on bookmarks later).
Company Highlights uses Einstein artificial intelligence (AI) to do a little relevance ranking in the background. It brings you a ranked view of what's trending in your org (Top Posts)—again, you see only the posts that you can access. Company Highlights is the default feed that you see when you first visit the Chatter tab. After you've followed 10 things, your default becomes the What I Follow feed.
My Drafts holds your saved draft posts until you're ready to publish or delete them. Your Chatter admin must enable drafts before you can use them. When drafts are available, a post that you're working on is automatically saved after seven seconds. Only posts are saved as drafts. Questions and polls aren't saved.

The next group, Streams, are super feeds that you create by combining feeds from all kinds of objects. And Recent Groups shows a list of the top five most recently visited groups that you're a member of. Use Recent Groups to easily get to the groups you visit frequently.
In the center of the page, you see the meat and potatoes of Chatter—the feed. The feed is where the magic happens—lively and evolving discussions between you and all the people you work with. And it happens almost everywhere. You can post to a person's profile. Ask questions of a knowledgeable group. Talk about a particular record, like an account, in view of the record's details.
When you need a quick way to find stuff in Chatter, two types of search are available. Global search (1) searches the entire org and returns only the results that you can access. With global search, you can limit your search to the type of object that you want to find. Feed search (2) lets you look for results from the current feed. Feed search offers a great way to find that vital bit of information that's buried in an active thread.
Search for files, people, groups, teams, work records, and other information. Over time, Chatter becomes your company's corporate memory, connecting people across departments and geographies.
Let's go right to the latest info. See that bell at the top of the page?

That's the icon for in-app notifications. The number tells you how many unread notifications you have. Click the bell to see notifications for where you're mentioned, who's commenting on your posts, and who's posting to your groups.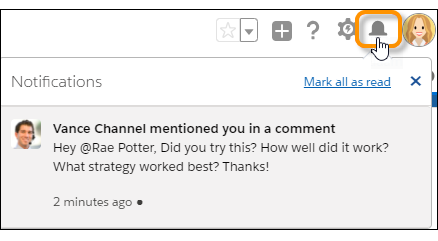 Other types of actions can also trigger notifications, like approval requests and posts to your profile wall. Click an entry on your list of in-app notifications to navigate right to the discussion where the notifying event occurred. In-app notifications show the 20 most recent notifications received in the last 90 days.
There are lots of other ways to be notified: email, daily and weekly digests, and Chatter filter options. We talk about all of them later.
For now, let's start by making it easier for people to get to know you.
Set Up Your Chatter Profile
Use your profile to make your Chatter debut. It's a great way to say hello and give your coworkers a way to contact you and get to know you better.
Let's get started filling out your Chatter profile. First, add a profile picture. You can make your picture as fun as you want—use a cartoon or some other image that's meaningful to you. But, when you're just starting out with Chatter or if you're new to your company, help others recognize you by using a real picture.
Here's how to upload a profile picture:
Open your profile page in the Trailhead Playground by clicking the View profile icon and then clicking your name. Tip There are many links on the pop-up that opens when you click the View profile icon. Use them to access your personal settings, log out, log in with your other usernames, and set your preferred display density: comfy or compact. Comfy has more white space than compact, it's more spread out. Compact is … compact.
Click the camera icon on the default profile image, and follow the instructions to upload your profile picture.
Click the Edit About Me (pencil) icon, and create an About Me statement. Add some background that gives your colleagues a way to get to know you.
On your profile page, click Edit.
Enter information about yourself, including your Name, Title, and contact information.
Click Save.
Your profile page offers a lot more than just your own profile. It also displays lists of:
Teams that you're a member of (which link to the team record)
People who you follow (which link to their profiles)
People who follow you (which link to their profiles)
Groups that you're a member of (which link to those groups)
Files that you've uploaded (which link to file previews)
You can add your own banner to your profile, too. In the default banner, click the Update Banner Photo icon
, and follow the instructions for uploading a banner image.
Now you know the basics of updating your profile. The next unit covers how to join the conversation.
Resources
Help resources:
Copyright
Rights of ALBERT EINSTEIN are used with permission of The Hebrew University of Jerusalem. Represented exclusively by Greenlight.