Discover Salesforce Payments
Learning Objectives
After completing this unit, you'll be able to:
Describe payment processing challenges that affect e-commerce conversion.
List ways that Salesforce Payments addresses payment challenges and helps your business boost conversion rates.
Explain how to integrate Salesforce Payments with your B2C Commerce storefront.
The Challenges of Online Payment Processing
Making the online payments process easier and more efficient is a big challenge. Payment processing is time consuming and expensive to implement on the front end, as are order management or ERP systems on the back end. Executing payment processing across channels, while maintaining the level of security and compliance required, further adds to the challenge.
For years, online retail sales have been growing, and that trend is only accelerating. Meanwhile, the payments part of the online checkout process has become more complex, with so many payment options available to shoppers. Recent surveys show that over 88% of shoppers now use digital wallets. Data also shows that 6% of shoppers abandon checkout if the payment method they want to use isn't available. Shoppers are challenging merchants to accept payments in ways that they didn't have to before.
Another byproduct of increased online shopping is digital fraud. Criminals have been more active in breaking through digital channels, resulting in an increase of almost 35% in fraud attempts. Attempts to reduce fraud might actually block good transactions: 4% of online shoppers won't even bother trying a second payment method if the first is declined.
These factors directly impact what's most important for your retail business—converting online visits to actual sales. You want real buyers—not fraudsters—to complete the checkout process. 
Tackle these challenges using Salesforce Payments.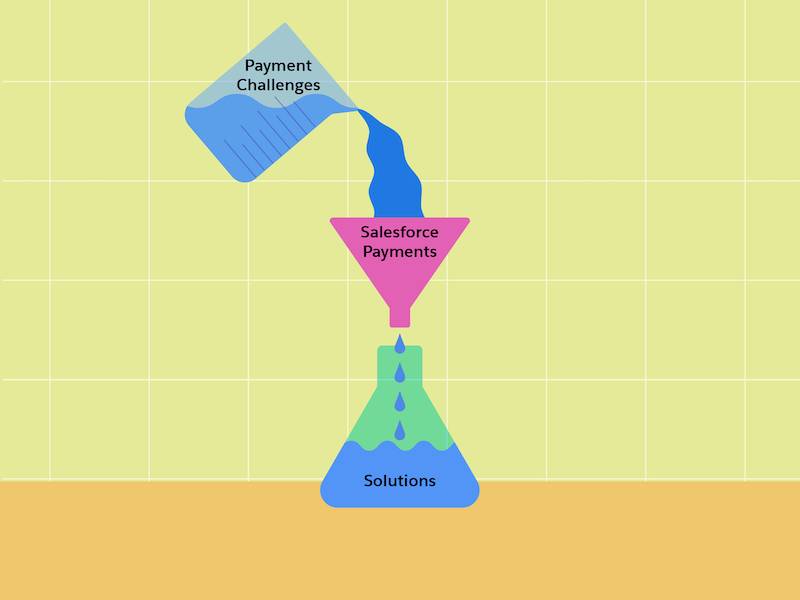 Our Solution: Salesforce Payments
Salesforce B2C Commerce, an acknowledged e-commerce leader, lets you create and deploy amazing online experiences for your buyers across digital channels and devices. B2C Commerce also integrates services such as tax, credit card, and shipment processing with the checkout experience.
Salesforce Payments helps you:
Launch faster: It's easy to turn on payments and start selling. What used to take 3 weeks or longer can be done in a day.
Prevent fraud: Ensure secure checkout with Stripe Radar added to the B2C Commerce application.
Grow and scale globally: Quickly turn on local payment methods to scale internationally on a trusted platform with 99.99% availability.
Salesforce Payments brings a world-class payment processing solution by providing a fast, easy, and trusted way to:
Accept a variety of payment methods like credit cards, digital wallets such as Apple Pay and Google Pay, and even non-card options like SEPA, iDEAL, and Bancontact. You can also add buy-now-pay-later options with Klarna and Afterpay.
Protect against fraud with Stripe Radar. Stripe Radar offers fraud prevention via advanced machine learning, is available as part of the core offering.  Stripe's powerful Radar for Fraud Teams, also available, adds a custom rules engine and workflow, and more granular fraud scores and analysis.
Add PayPal payment options and Venmo for your storefront with clicks-based configuration.
Embed payments easily into your B2C storefront with click-and-go implementation.
For PayPal, process payments and returns from your B2C store to Salesforce Order Management with a single payments package.
Set Up Salesforce Payments
It's simple to get started with Salesforce Payments and reap the benefits of all it offers. With a few clicks, configure your storefront with the payment methods you want, such as credit cards, PayPal, and alternative payment methods. Configure Express Checkout with PayPay, Apple Pay, or Pay Now. Add Buy Now Pay Later, and multi-step checkout with credit cards, PayPal, SEPA Debit, iDEAL, EPS, Klarna, or BanContact. 
Payment methods are available in any country where Stripe and PayPal support them. And, you can add new methods as they roll out.
Begin right from Business Manager:
Create a merchant account, automatically link it with your B2C Commerce application. Provide info to Stripe to take your account live or connect an existing PayPal account—no code required.
After a merchant account is set up, create payment zones to deliver targeted checkout experiences based on the buyer's country and currency. Payment zones can share merchant accounts or act independently.
When you configure a payment zone, assign specific currencies and countries to it.
After creating a zone, assign it to one or more merchant accounts.
Finally, add payments to your storefront's ordering process, and select the specific payment methods for the zone.
Salesforce Payments is now part of your storefront experience.
Summary
As you explored payment processing trends and challenges, you learned how Salesforce Payments addresses them and how easy it is to integrate Salesforce Payments with a few clicks into your B2C Commerce storefront application.
Resources