Understand the Value of Business Analysis
Learning Objectives 
After completing this unit, you'll be able to:
Define business process mapping.
Explain the value of business process mapping.
Explain why business process mapping is a critical skill for Salesforce professionals.
What Is Business Process Mapping?
Business process mapping creates visual representations of business processes. A business process map includes the steps in the process, who does what, additional context, and how success is measured.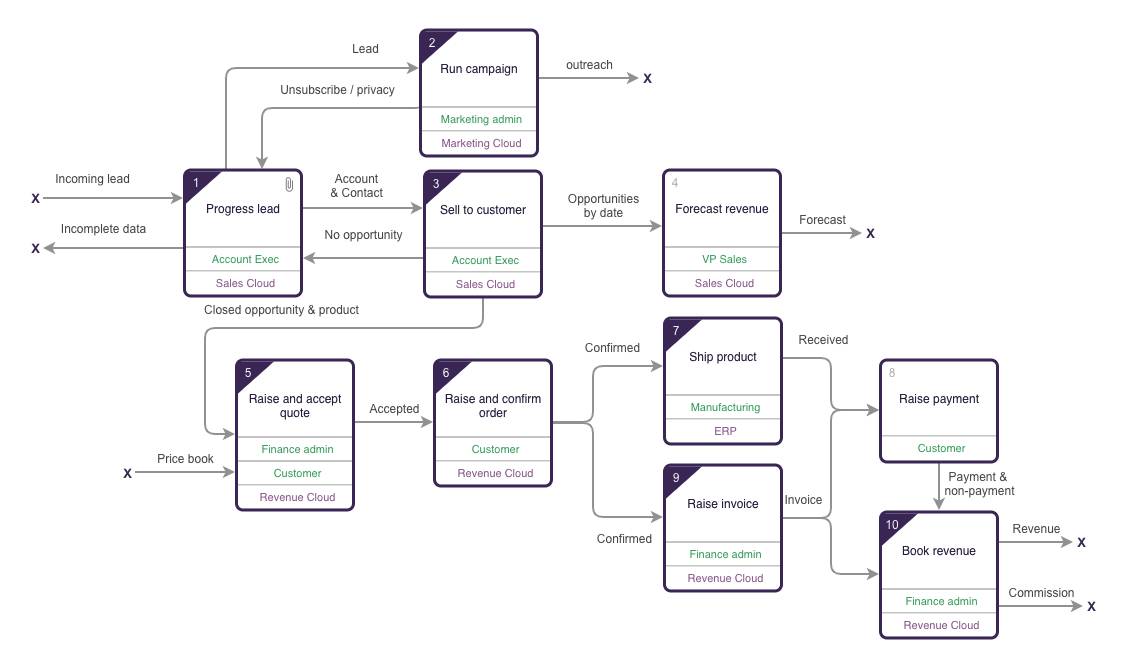 Before You Begin
Before you begin this module, we recommend working through Process Mapping for Business Analysts on Trailhead. That badge gives you an overview of business process mapping and its value to an organization. In this module, we take a deeper dive into the steps of business process mapping and why it's a crucial skill for any Salesforce professional. 
What Does a Business Analyst Do? 
The end goal of almost any Salesforce implementation is to create a single source of truth and a connected, world-class customer experience. Whether you work as a Salesforce admin, business analyst, solution architect, or consultant, it's important to develop foundational skills like questioning, analyzing, and documenting business processes to successfully identify and build a solution. 
After all, analysis comes before architecture, and before build (if you don't believe us, just check the dictionary). Business analysis is more than a role—it's a skillset, and an important one at that. Every project, no matter how small, needs business analysis. 
By identifying process improvements and getting alignment upfront, you can identify quick wins and get benefits before you start making changes to systems. 
Good Business Analysis Means Better Architecture 
We know these skills are important, but how and why do business process mapping skills really impact the work of designing and building a solution? Business analysis is a prerequisite for strong architecture for a few reasons. 
Business analysis increases Salesforce adoption. Companies may think they know what end users want, but it takes business analysis to understand what end users need. Analysis helps you build apps quickly but, most importantly, it helps you know that you're building the right ones.
Business analysis reduces rework: A well-documented business process leads to better requirements with less ambiguity between end users, analysts, architects, and developers. All of this means less time spent trying to understand what is required, which results in less rework and less frustration.
Business analysis impacts architecture. Salesforce professionals need to understand the business process, and therefore the app in context, because the process informs the data model, performance considerations, and metrics collection. If you understand the business process, you can also pinpoint where it can flex and change to make the app perform better.
Business analysis increases agility and drives digital transformation. We're in the midst of a digital transformation, and in order to keep pace with the market, businesses need to be able to pivot quickly. Agile analysis provides confidence that a business model will stay relevant, and it encourages a mindset of continuous improvement. 
"We Haven't Got Time for That"
Maybe when it comes to business analysis you've heard, "But we haven't got time for that." Yes, rigorous business analysis does take time—but it's worth it. 
Read the term on each card and then click the card to reveal how business analysis saves time and resources down the line. Click the right-facing arrow to move to the next card, and the left-facing arrow to return to the previous card.
More Than a Map 
Business process maps are a great way to get everyone on the same page. They're even more valuable, however, when they support the other assets that make up a Salesforce implementation. 
When it comes to Salesforce, the value is in the relationships. When information is siloed, it increases your time to implementation and the risk of misunderstanding and miscommunication 
The relationship between business analysis—the business process map—and other assets creates a connected picture that's an insightful and critical resource for you. 
Resources