Assemble the Pieces
 Learning Objectives
After completing this unit, you'll be able to:
Identify Marketing Cloud Advertising use cases across digital channels.
Create an always-on journey using Marketing Cloud Advertising.
Achieve Your Goals
Once implemented, Marketing Cloud Advertising can help meet short- and long-term goals for your company. Here are a few successful ways to use Marketing Cloud Advertising.  
| Goal | Description |
| --- | --- |
| Acquire New Customers | Build lookalike audiences based on characteristics of your best customers, using engagement metrics, ecommerce sales, or mobile interactions. Use those audiences to find new prospects using a lead capture form. |
| Retain Loyal Customers | Create specialized audiences, such as high-value, premium, or frequent customers, to entice them with specific offers related to their preferences or past purchases. |
| Cross-Channel | Even with the best-performing email campaigns, not everyone will see the intended message. Advertising is a great channel for brands to effectively and safely reengage customers who are no longer interacting with your brand. |
| Optimize Media Bidding | Reduce ad costs by using suppression audiences to target the right customer at the right time. By segmenting groups of customers based on their past behaviors, marketers can be more strategic in bidding. |
| Upsell Existing Customers | Tailor messaging and campaigns based on past purchases to provide relevant complementary products, special offers, and other recognition. |
Stephen Covey's second habit in The 7 Habits of Highly Effective People is "Begin With the End in Mind." Long-term goals can be overwhelming, so focus on short-term wins that get you on the right path toward long-term success.
Suppress current customers in a paid search category. Stop sending ads to all customers and only target customers who haven't seen your message via other channels.
Use existing data first. Create a company-wide data strategy that takes into account all known data you have about your customers (marketing engagement, CRM data, social media data, and so on).
Engage with customers based on preferences and actions. Develop a customer-centric, personalized strategy for each campaign. Don't know much? Create a preference center and then communicate with your customers based on that data.
Select one current campaign to automate. An always-on program or journey moves the audience through a campaign with little to no work on the marketer's side. Move toward using 30% of your media budget to these types of campaigns.
Let's review an example of an always-on, multichannel journey.
Always-On Journeys
Breaking up is hard to do. Linda, from Cloud Kicks, wants to rekindle the love affair with lapsed customers or at least have an amicable breakup. Let's review Cloud Kicks's win-back strategy.
Why?


Recapture customers who haven't purchased in awhile.

Who? 


Customers who have not purchased in a year.
Customers who have been deemed Winback/Dormant through Einstein Engagement Scoring.

How? 


Send 1–3 emails with an offer to entice the customer to action.
If no response, target customer using Advertising Campaigns within Journey Builder.

Goals?


The customer interacts with the email and uses the offer.
The customer interacts on social media and uses the offer.
The marketer captures additional preference information about that customer.

Considerations?


Provide an offer: 10% off a customer's next purchase.
Define success: a customer makes a purchase or opens the email.
No response: flag the unengaged customer to suppress them from weekly email sends and from advertising offers.
Linda wants to automate this process so customers that qualify are added directly into the journey with little to no involvement from her or the Marketing team. She maps out the journey in Journey Builder to include a split on the third attempt to reach out to unengaged past purchaser.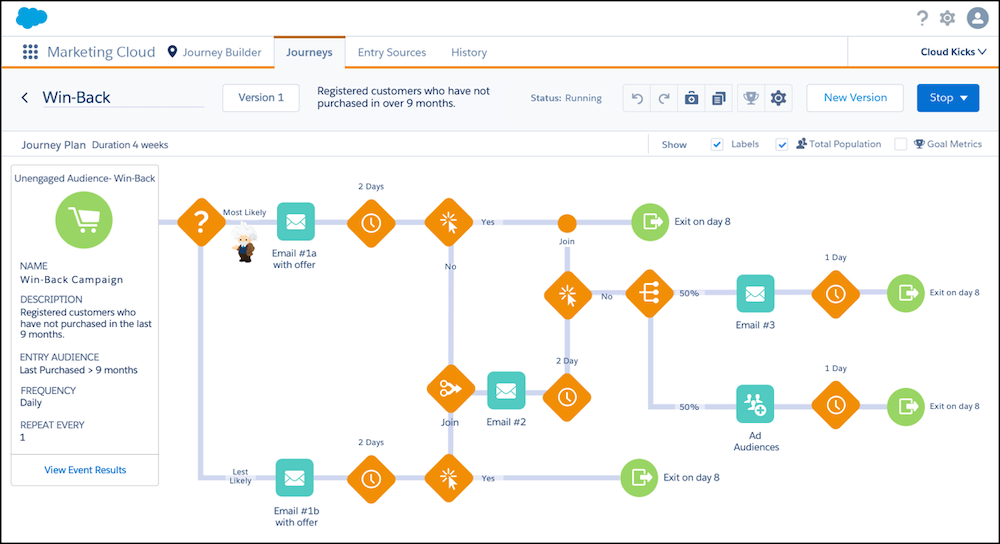 Cloud Kicks's Marketing team is excited about what Linda has built and they are ready to test and to activate. Before they do, they review the following tips for win-back campaigns.
Review the content

Use personalization where appropriate.
Dedicate the entire message to the win-back offer and be direct about asking subscribers to engage.
Offer the subscriber the ability to update preferences.
Clearly state benefits of staying involved.

Test the journey

Test creative, subject lines.
Test other channels in addition to Advertising, like SMS.
Test various offers.
Ready… Set… Relax
With Marketing Cloud Advertising implemented and the win-back journey tested and activated, Linda and team can sit back and relax and let their always-on journey do their work for them. Well... at least for an hour or so. 
Resources