Get Started with Actionable Relationship Center
Learning Objectives
After completing this unit, you'll be able to:
Explain the difficulties in visualizing complex client relationships.
Explain the Actionable Relationship Center feature.
Explain how the Actionable Relationship Center relates to business logic and data model.
Identify the various sections of the Actionable Relationship Center interface.
Explain how Actionable Relationship Center is different from Relationship Map.
Meet the Cumulus Cloud Team
If you've finished one of the modules in the Inspire Customer Loyalty with Financial Services Cloud trail, you've met the team at Cumulus Cloud Bank, a major financial services provider that uses Financial Services Cloud (FSC) to manage its operations. Let's say hi to them once again.
Ryan Dobson is a top-rated wealth manager at Cumulus. He manages the portfolios of many high-net-worth clients and keeps their financial goals on track. 
Srilakshmi "Sri" Maajid is a client associate in Ryan's team. She helps Ryan in handling portfolios, client requests, and other wealth management services for Cumulus customers. 
And Matt is the super admin at Cumulus. He works behind the scenes to make sure that Cumulus is always equipped to handle any technical challenge. 
Relationships Are Complicated
Rachel Adams is one of Cumulus's high-value clients whose portfolio Ryan has been handling for a long time. Rachel's husband and father are Cumulus customers as well. Here's a quick breakdown of how their financial profiles and relationships are modeled in Financial Services Cloud.
Rachel and her husband are part of the Adams Household, with Rachel as the primary member. Between the two, they have many financial accounts, insurance policies, loans, and investments at Cumulus.
Rachel and her husband also run the Adams Charitable Trust together. The funds for the trust are held in a cash management account at Cumulus.
Rachel is also part of Symonds Household with her father as the primary member. He also has investment accounts and insurance policies at Cumulus.
Ryan must make sense of this complex data to provide impeccable service to the Adams family and discover new business opportunities. Time is money for Ryan, literally. Every second he spends going through complex data could cost him existing business or the next potential client. And to make matters worse, all of this data is spread across the org. He must bring all the puzzle pieces together to get the bigger picture.
Ryan meets Matt at the office cafeteria and explains that he needs a solution that can help him manage such complicated financial relationships. Ryan wishes they had a magic wand that could conjure up a solution with a single swish.
Introducing ARC
Wizardry and magic aren't Matt's areas of expertise, but he's pretty good with FSC. He tells Ryan about an FSC feature that's nothing short of a magical potion—a CRM potion, that is. Abracadabra! Behold Actionable Relationship Center (ARC), an advanced visualization engine that provides a holistic view of customers and their relationships with actionable insights, all in one place.
Ryan is intrigued. They both sit down at a nearby table as Matt continues to describe ARC's features to Ryan. ARC is an interactive display component that lets Ryan explore multiple layers of client connections with other people, households, businesses, and financial accounts. For example, he can view the data of multiple generations of a household, including their related accounts, contacts, and assets. He can gain insights into important hidden connections and quickly take action. And he can do all this within ARC. So no more going to each record individually. He can take action without switching context.
And finally, Matt can customize ARC to match any business process. He can set up the fields that Ryan wants to view, and the actions Ryan wants to take for different objects and record types. 
Check out this video to learn more about ARC.
In this module, we follow along as Matt sets up ARC. To Ryan, ARC sounds too good to be true. But he knows Matt always delivers. So he waits for Matt to finish setting up ARC in the org.
How ARC Relates to Business Logic and Data Model
Before Matt gets to setting up the org for ARC, he digs around to understand some technical aspects of ARC. He pictures a three-layer pyramid.
Data model: This bottom layer defines the logical structure of data and how foundational entities like objects, relationships, and fields are related to each other. 
Business logic: This middle layer defines the business rules and workflows that handle the exchange of information between the data model and UI (User Interface) layers. Business logic examples include Compliant Data Sharing (CDS) and Einstein Relationship Insights (ERI).
User interface: This top layer is where ARC resides as ARC is essentially a UI visualization feature. ARC surfaces entities and functionalities that have been defined in the data model and business logic layers below. Record pages and Lightning Web components also fall in the UI layer.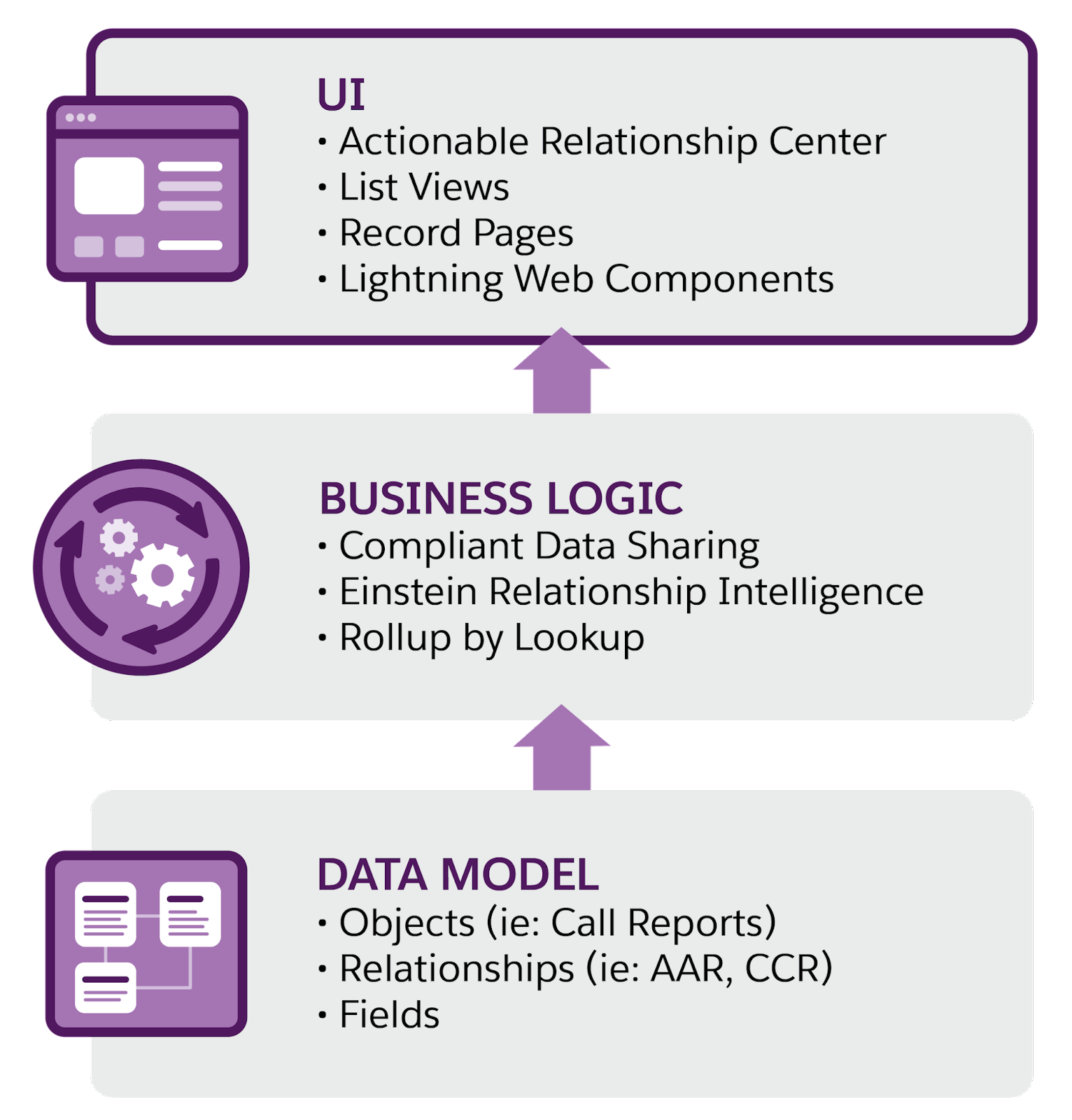 Explore the ARC Interface
Next, Matt explores the ARC interface and learns about its various sections.
Root record (1): Account from which ARC is launched, household in this case.
Relationship cards (2): Group, member, and peer relationships for the household account.
Members (3): Members of the household. You can preview up to two fields for each record.
Show Related Lists button (4): Show or hide related list components.
Related lists (5): Related list components for the selected account. Up to 10 components with compact layouts can be configured. You can preview up to two fields for each record. The related lists are hidden by default to improve performance.
Collapsible side panel (6):

Expand or collapse the side panel (6a): Use the  button to expand or collapse the side panel. The panel is open by default.
Quick actions (6b): Actions configured on the default page layout for the record type appear here.
Details tab (6c): Displays information of the selected record, including roles and reciprocal roles. If you set up extra features like CDS and ERI, they appear here beside the Details tab.
Relationship Map vs. ARC
Just like ARC, Relationship Map lets you visualize and manage client relationships. So how are these two features different? While they offer similar basic capabilities, ARC gives you several advanced features, as listed in this table. 
| Capabilities | ARC | Relationship Map |
| --- | --- | --- |
| Relationship hierarchy visualization | Multi-level | Basic one-level |
| Contextual actions on records | Supported | Supported |
| Quick actions | Supported; customizable | Not supported |
| Contextual record details | Dedicated side panel | Not supported |
| Application | Suited for both small and large data sets | Suited for small data sets |
| ERI integration | Supported | Not supported |
| CDS integration | Supported | Not supported |
| Related lists integration | Available within ARC; up to 10 supported | Not supported |
| Customization | Supported | Not supported |
In this unit, Matt learned about the basic and technical aspects of ARC. In the next unit, follow along as he sets up ARC. Let's go!
Resources