If you've worked in sales, you know that deals usually progress from tentative to firm before they're finalized. As a deal progresses, you grow more confident that you'll make the sale. In Salesforce, an opportunity moves through a series of stages linked to type of tasks being performed, who's got the ball, and how likely it is that the sale will be made.
The stages you usually go through might look like this:
Prospecting
Developing
Negotiation/Review
Closed/Won
Closed/Lost
You had a meeting with Leung and Alan from ABC Genius Tech. They're interested in your new line of custom sneakers, the Stratus X11. You still have a lot of work to do to close this deal, starting with putting together a package that they'll want to buy.
Your new Stratus X11 opportunity for Leung and Alan might be in the Prospecting stage. As you work the deal through different stages, the likelihood that Leung and Alan will buy from you probably increases. After all, if they were no longer interested in your product, they'd probably let you know or stop asking for information. You can estimate the likelihood of a successful sale based on what stage the deal is at. Each stage is associated with a probability that the deal will be completed successfully. The default probability is set by the administrator. Each stage must be assigned a probability. Probabilities are used when creating forecasts, which are not covered in this course.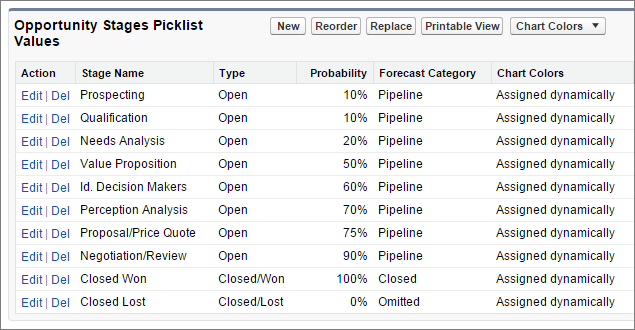 When determining which stages you will use, consider bringing together some of your sales leaders and key team members to map out your sales process. Determine which of the standard stage names to use and whether to add custom stages for your company. If you customize your stages, make sure that the names are intuitive for your salespeople who will be using them on a daily basis. Make it a semi-annual or annual practice to revisit your sales process and ensure that your stages are still relevant.
In Salesforce, you can set up separate sales processes for each type of sale you make. For example, Cloud Kicks may have one sales process to handle standard retail orders for large quantities of shoes, and a separate process for small, custom shoe orders. Setting up each process takes several steps.
Create the opportunity stages needed in the sales process.
Name the sales process, and select what opportunity stages are included in that particular process.
Optionally, create an Opportunity page layout specific to the process. For example, you might include a field called "Custom Embroidery" on the page layout for the sales process for small, custom shoe orders but not on the page layout for standard retail orders.
Create a record type for the sales process. Record types link the sales process to the page layout that goes with it.
Let's try setting up a new sales process now.
Set Up Opportunity Stages
From Setup, click .
Click the Stage field label.
Click New.
Enter a name for the stage.
Enter a number to indicate the probability that any given sale in this stage will be successfully completed. For example, if 1 in 5 deals in this stage complete, enter 20 to indicate 20%.
Click Save.
Set Up a Sales Process
You might sell different items using different processes. You must set up at least one sales process in Salesforce, but you can set up additional processes to match how your business actually works.
From Setup, click .
Click New.
To create the first new process for your organization, create a Master process.
Give your sales process a unique but descriptive name. For example, Retail Sales.
Optionally, add a description.
By default, all stages are included in a new process. Remove stages you don't want to include by clicking the stage name in the Selected Values area, and then clicking the Remove arrow to move the unwanted stage to the Available Values area. For example, if you qualify all leads before converting leads to opportunities, remove Qualification from the selected values.
Click Save.
Create an Opportunity Record Type
The record type is how you link a particular page layout and sales process to a type of product. Record types determine which types of sales opportunities pass through which sales process.
From Setup, click .
Click New.
Enter a record type label and a record type name.
Select a sales process to apply the record type to.
Optionally, add a description of this process.
Select which profiles can access the new sales process.
Click Next.
Apply the page layout to the Opportunity Layout.
Click Save.
Create an Opportunity
On the Opportunities tab, click New.
If your organization has more than one record type for opportunities, select the type that best represents this opportunity.
Give the opportunity a name.
Select the account that the opportunity relates to.
Select a close date for the opportunity.
Select the stage that the opportunity is currently in.
Salesforce adds a probability based on the stage selected. You can change the probability if it isn't accurate for this opportunity.
Click Save.
As you work on the new opportunity, you'll change the opportunity stage to indicate your progress toward a sale. In the full Salesforce site, you can edit the record to change the opportunity stage. In the Salesforce1 mobile app, tap Mark This Stage as Complete.